4-H Enrollment for the 2023-2024 4-H year is year round, it opens Sept. 5th, 2023
Members new and old can start enrolling in Pierce County 4-H starting Sept. 5th To enroll go to: http://wi.4honline.com
If you are a returning family, start with logging in to your existing 4-H Online account on or after Sept. 5th. To re-enroll any existing adult or youth member, click on the Enroll Now link for the member you want to enroll for this next year from the list on the family member list screen. Use the email login you used last year (family email) and if you forgot the password please click the I forgot my password and a new one will be sent. If you run into trouble call the office and we will help. Do not start a new enrollment if you are an existing member. You should re-enroll with your existing account.
If you are a new family, start with creating a new 4-H Online account. After you create your login account, you will be prompted to – Add a New Member. Then add additional family members in the same account by clicking on the Add Member button on the family member list screen. You will need to know what club you want to join when starting this account.
If you are enrolling an Adult Volunteer you will need to complete the background check, the VIP training and additional Volunteer Trainings. You should only enroll parents/adults if you are interested in volunteering and be aware that you MUST complete these things before we can confirm you as an adult leader and before you can start working with the youth of Pierce County 4-H as a volunteer.
For help or instructions on enrolling, call the office or re-enrolling go to – https://4h.extension.wisc.edu/files/2020/09/4HOnline.v2.Family.Enrollment.Guide_.pdf
If you need help finding a club, please be sure to reach out to the Extension Office 715-273-6781 and we can give you a list of clubs in your area.
Please call the office if you have any questions!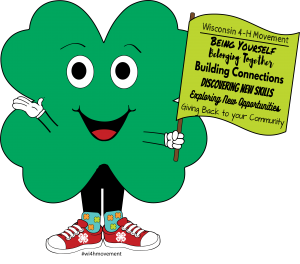 Please see this document for help enrolling in 4-H –
Setting up your family/member accounts and enrolling in projects
4-H Enrollment occurs each fall, starting mid-September. Returning Families will login into the 4hOnline.com account to update their Member information and select new projects and/or delete projects they are no longer taking and add any new 4-Hers to the family account. New Families will create an account and add their new 4-Hers, select their club and projects. 4-H Enrollment MUST be completed each fall for all returning and new members.
How to Enroll Quick Guide: A 4-step guide to signing up in 4hOnline for both New and Returning Members. (PDF – when printing, make sure to select "Fit to page" in Chrome or "Fit" under Page Scaling in Explorer).
Forgot your username and/or password? STOP! Do not create a new account!
Username help: this was the email you used last year to login (might be the email we send notifications to), if you don't remember, call the Extension Office (715-273-6781 and we can retrieve it for you).
Password help: hint, this was a minimum of 8 characters, with at least 1 number and 1 capitol or non-alpha character. If you don't remember, you will need your username, and you can reset your password from the login page. You will be sent an email with a generic password to log in to your account and update your password.
Other Enrollment Information –
If you've been enrolled in years past and are returning – call the Extension Office to reactivate your account. We can reactivate your account and get you set up.
If you log in and find you have to enter in all your information – stop! Call the Office, you may have accidentally created a whole new account, and we can help.
Switching Clubs? Stop! Call the Extension Office; don't just delete your old club and add a new one.
Pierce County UW-Extension Office – 715-273-6781
Welcome to the Family! 4-H Welcome Publication
1) First, find a club near you: 4-H Club Map
2) Contact the leader of the club to find out more about when meetings are held and learn a little bit more about 4-H (club leader contact information is on the 4-H Club Map ). Ask if you can attend a meeting and see if the club is a good fit for you and your family. Definitely check a couple out!
3) Sign up for a club and projects. Signing up in projects takes place in the fall each year (usually mid-September through October). In order to be a full member, you must enroll in a club and projects during the fall through wi.4honline.com. If you need help enrolling, please call your club leader or the office (715-273-6781) – we are more than glad to help!
4-H Online is your family account; from this single account you can manage all your family member's projects and contact information (no need to remember multiple usernames and passwords!). When you log in, you will be taken to your family page ("Member List"), where you can go into each of the family members' profiles ("edit") and enter in their specific information and sign them up for 4-H projects in the fall. Have new cloverbuds in your 4-H Family? You can can add a new "Youth" member from this same account!
Go to http://wi.4hOnline.com
This will take you to the WISCONSIN state 4-H login page. If you see it says another state, you are on the wrong website.
New families can create their account at wi.4hOnline.com. Scroll down the page, and select "I need to set up a profile". From there, you choose the county as "Pierce" – do not select any other county since this is asking where your 4-H club is based, not where you live. Type in your email address (this will be your username and family email address, so please use an active email account). Role is "Family" (should already be set as that by default). Click on "Create Login".
New family members can be added to an existing family account by logging in to the family account
Returning members can log in to their account from wi.4hOnline.com

Forgot your password? Select "I forgot my password" and you can reset it.