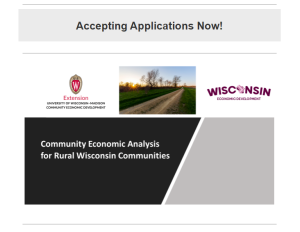 The Community Economic Development Program is pleased to accept applications for the Community Economic Analysis for Rural Wisconsin Communities (CEA-RWC) Pilot Initiative supported by the Wisconsin Economic Development Corporation (WEDC).What?A joint effort between the University of Wisconsin, the Division of Extension, and the Wisconsin Economic Development Corporation to bring a structured community economic development strategic planning program to a set of rural Wisconsin communities.When?Accepting applications NOW through August 15, 2022. Pilot communities will be notified of acceptance no later than September 1, 2022 and will work with Extension and WEDC upon acceptance through June 30, 2024.Who?This pilot program is open to rural places in Wisconsin including local communities, rural regions, rural counties, and tribal communities. Population size for pilot communities should fall between 1,000 and 7,500 people.Why?Extension and WEDC aim to understand the challenges for rural Wisconsin communities working on and executing community economic development plans. These efforts will provide valuable insight into establishing a process and pathway that other rural communities throughout Wisconsin can engage in as they develop and look to execute comprehensive community economic development planning in their community.
Click on the Learn More below for more information!
Equal Employment Opportunity & Affirmative Action Statements
An EEO/AA employer, the University of Wisconsin-Madison Division of Extension provides equal opportunities in employment and programming, including Title VI, Title IX, the Americans with Disabilities Act (ADA) and Section 504 of the Rehabilitation Act requirements. Please make requests for reasonable accommodations to ensure equal access to our educational programs as early as possible preceding the scheduled program, service, or activity.